Drama
"And he said to them, "Go into all the world and proclaim the gospel to the whole creation. Whoever believes and is baptized will be saved, but whoever does not believe will be condemned." Mark 16:15-16
Vision
The drama department at Mount Carmel aims to provide all pupils with a valuable educational experience which broadens their horizons and gives them skills for life beyond school. By studying drama, pupils are provided with the opportunity to develop communication skills, whilst simultaneously learning how to express themselves creatively through voice and movement.
Opportunities are provided for pupils of all abilities to develop the necessary skills in performing, devising and responding, through use of the imagination and text-based work. Staff are committed to ensuring that each pupil meets their full potential by embedding both performance and production skills in both a practical and theory based programme of study. Our goal is to nurture the natural abilities and talents of those who are gifted in drama, whilst also giving all pupils a comprehensive knowledge of theatre history, key practitioners and communication skills that prepare them for life, not just for key stage 4 study.
The aim is for pupils to enjoy exploring themes, genres and styles and feel comfortable experimenting in an environment where they feel safe and confident. All pupils are encouraged to get involved, regardless of their performing ability, rehearsing and refining their work with self-belief and determination so that they are equipped for life beyond the drama curriculum and can present well in a range of formal contexts.
Intent KS3
At Mount Carmel, pupils receive one hour of drama per fortnight in key stage 3 In addition to lessons, we offer extra-curricular opportunities in order to enrich pupils' experiences, such as the annual school show, Shakespeare Schools Festival and Arts Award, when possible, and theatre trips. There is one drama teacher with excellent knowledge of the subject who is the Curriculum Leader. She is also a SLE and a moderator for the AQA performing Arts Technical Award.
KS3 curriculum:
At Mount Carmel, the curriculum is constructed to equip pupils with the knowledge of all the most influential periods and practitioners in the history of theatre. These schemes also explore theatre genres and texts. Within each topic, pupils are expected to: perform, create and respond. In order to support literacy, pupils regularly read at an age- appropriate level and write about their work. The drama course content not only provides pupils with cultural capital opportunities as drama students, but also knowledge of theatre in a wider social, political and historical context.
Teaching is focused on pupils' understanding of key drama skills and techniques. These are clearly presented and there are pair/group work routines in place. Through Q&A, practical and written work, pupils' misconceptions are addressed routinely via diagnostic feedback both verbal and written as well as key word tests and re-visiting/ recapping on key concepts.
As most drama skills/techniques are re-visited in many units across key stage 3 through practical work, the course of study is designed to help learners remember the content long term and transfer skills with each new topic and, of course, into key stage 4. This results in learners having an increased knowledge and understanding over time and them being able to transfer this to their long-term memory.
Topics taught:
The topics taught at KS3 build up pupils' use of subject specific vocabulary and development of ideas and skills:
Thematic/PSHE: prejudice and discrimination
Genres/styles: melodrama, Shakespeare, Commedia Dell'Arte, theatre practitioners, Improvisation, production skills
The curriculum content has been carefully selected so that there are clear end points built into the design to ensure that the curriculum is building towards what pupils will be able to know and do at those end points. For example, in year 9 at the end of the first unit of work on Rosa Parks, pupils will create then perform a devised performance. At the end of unit 1 in year 8, pupils will prepare a pitch presentation on the play they have been exploring.
Although our students are taught in bands and sets, the planning in our subjects gives all classes the opportunity to access all themes, skills and knowledge in drama. This is based on three core areas: creating, performing and responding. Academic ability does not dictate the diet of drama that pupils receive and inclusivity and engagement of all students is at the forefront of the curriculum design. Therefore, the curriculum has the same academic, technical and vocational ambitions for all learners.
How will the subject be assessed?
At key stage 3, assessment takes place formatively in most lessons for practical work through verbal feedback. Summatively, there are written and practical end of unit assessments and diagnostic feedback is given using the school's 'wow' and 'now,' policy. Examples of written work include evaluations of performance work, design work and writing in role. All three skill areas (performing, creating and responding) are tested across the year. Summative assessment is used formatively to inform future planning by looking at pupils' strengths and areas for development.
Enrichment and / or extra curricular activities
The performing arts department offers the following enrichment and extra-curricular activities:
Trips to The Civic Theatre for an 'access all areas' backstage tour
CHARM Talent Show in-house then finals at The Civic Theatre, Oswaldtwistle.
School show rehearsals
Theatre trips to Manchester to high profile venues such as the Opera House, the Royal Exchange Theatre and The Lowry, as well as residential West End London trips which includes a show, (Wicked Jan 2020) a dance workshop at Pineapple Studios, a backstage tour of the National Theatre or a visit to The Globe
Impact
Next steps (College, University, career)
The confidence and communication skills developed from drama, can be useful in a wide range of occupational areas including catering and hospitality, retail sales and customer services, broadcast media and the performing arts, marketing, sales and advertising and leisure, sport and tourism.
Applied and job-related learning and progression at college and degree level:
There is a range of vocational qualifications (such as BTECs, NVQ/SVQs, and diplomas) linked to an interest in performing arts, such as: performing arts, media, drama and dance.
Apprenticeships
There is a range of apprenticeships that link to an interest in drama, including:
Playwright
community arts administrator
theatre technician
exercise instructor
play worker
radio broadcast assistant
Academic subjects – such as A levels
You can study: performance studies, dance and drama, performing arts, theatre studies from aged 16 at local colleges such as Burnley College and ACROSS.
Related subjects include: production arts, film studies, psychology, philosophy, English, English literature, media studies. Greek civilisation and classics.
Additional resources
https://www.bbc.co.uk/bitesize/guides/zsf8wmn/revision/1

8 July 2022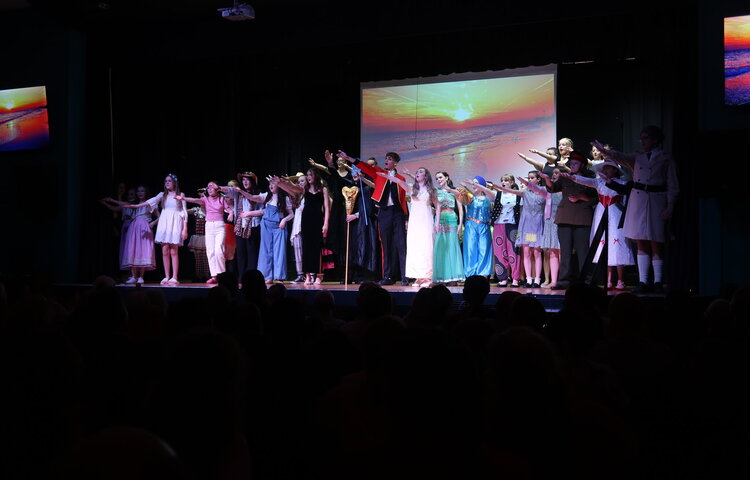 13 June 2022