Virtual Sports Week 2020
9 July 2020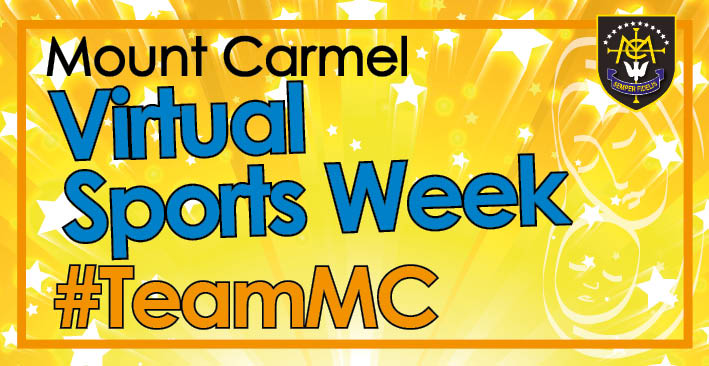 Mount Carmel Virtual Sports Week
RESULTS
The winning forms in our virtual sports week are;
7C
8A
9L
10C
Well done to all pupils in those forms. Prizes will be awarded in due course.
---
15th – 19th June 2020
As our school sports day can't go ahead this year as normal, the P.E. department have devised 5 Challenges for a Virtual Sports Week that will run during the week sports day would have taken place.
You will be competing as a form against the other forms in your year group and all your results will be totalled up with the winning form from Years 7 - 10 being announced on Monday 22nd June.
All you will need is a timer, a piece of paper, a tennis ball and a plastic water bottle containing a little bit of water.
The 5 Challenges are:
#Challenge 1 – Stay Balanced
Balance
Task: Balance on one leg for as long as possible record your time on a piece of paper
You can have as many goes as you like, but your best score must be recorded.
#Challenge 2 – Flippin' 'Eck
Bottle Flip
Task: Fill a water bottle with a little bit of water, flip and land your water bottle as many times as you can in 30 seconds!
Again, you can have as many goes as you like but RECORD your best score.
#Challenge 3 – Wall Ball
Coordination
Task: Throw a tennis ball against a wall as many times as you can in 30 seconds from right to left and back.
REMEMBER you can have as many goes as you like but you MUST record your score.
#Challenge 4 – Don't be a Plank
Plank position
Task: in Plank position (Arms Straight) hold your plank for as long as you can.
Note down your best score.
#Challenge 5 – Be Inspired
Pictures/TikTok/Video
Task: Create a sport inspired poster for the PE Dept.
This is your chance to be creative, we are looking for a sporting quote of your choice along with a video/picture/TikTok of you being amazing…. See the examples below.

HELP….
How long do I have to complete these challenges? You have a full week to complete the challenges from Monday 15th June, all challenges must be completed and sent to your from tutor by 2pm on Friday 19th June.
Can I have more than one go? Yes, you can complete the challenge as many times as you want but you must only send your highest score or longest time to your form tutor.
How do I send my scores in? You should note down all your scores on to a piece of paper as you finish each challenge and return it to your form tutor via Show My Homework once you have completed them all.
Can I see a Video of what I'm supposed to do? Yes, the PE department have made a video clip for each challenge explaining them in a little more detail. These are available to view on all Mount Carmel Social Media Pages.
If you have any more questions that are not answered on here, please message your PE teacher or form tutor.
GOOD LUCK
Tags: TeamMC COVID-19 P.E. curriculum