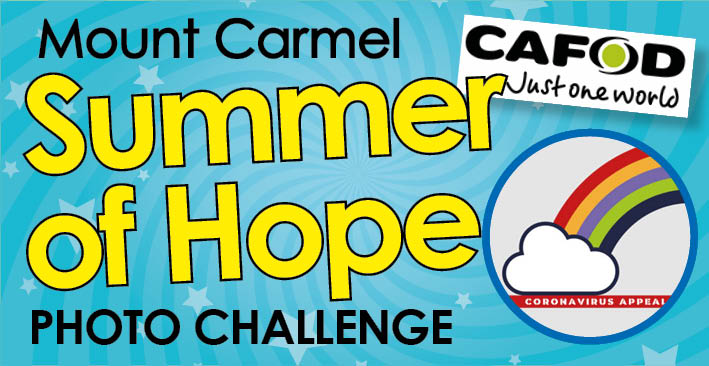 Summer of Hope Photo Challenge
WINNERS
The R.E. department have chosen the winning entries for the Summer of Hope Lockdown photo challenge. Curriculum Leader Miss Rushton said "There were many amazing entries showing a great insight into our students' lives during lockdown. We struggled to decide which would be the winning entries, so well done to everyone who entered. A prize and certificate will be hand delivered to the 1st prize winner."
The winners were as follows:
1st Place: Harrison H in 7E watch his video presentation below and here he is with his certificate and prize hand delivered to his home from Miss Rushton

2nd Place: Louis R in 9E his photo entry is below
3rd Place: Chantelle W in 10E her photo entry is below
---
Summer of Hope Challenge 2- 'Lockdown' Photograph Competition
We know how creative and talented Mount Carmel pupils are (many of you showed this as part of our Bake-Off Challenge).
So, for your second challenge we would like you to use your camera lens to provide a window into your world during the 'Lockdown'. We are looking for fun, emotional or inspiring photos that show how you and your family and even your pets are getting through these strange times.
We want you to show your budding photography skills and take photos from home, in the garden, maybe things you can see from where you live, or when you go out as part of your exercise.
Be as creative as you want, but please also be safe.
A selection of the best photographs will be shared on the school social media pages. On returning to school they will also form part of a photo gallery in school.
The winner and runners up will be announced on the website and will all gain a certificate. The winner will also receive a prize delivered to their door.
Important: We would appreciate if you could avoid using photos of others where possible. However, if you do involve others, prior to sending photos into school, please ensure you have gained permission to take and use their picture. This is solely your responsibility.
Deadline – Tuesday 7th July 4pm.
---
Throughout the last few weeks of our summer term, we will be aiming to raise as much money as we can for CAFOD in order to support those far less fortunate than us during this pandemic, those who don't have the amazing NHS and other key workers who have kept our country running during this time.
Each week a new challenge will be uploaded with your weekly reflection.
We would like you to get involved with the challenges, while getting others to sponsor you in the process. We have a special Just Giving Page for this.
There will be a prize for the winner of each challenge and a prize for the person who raises the most money for this cause (delivered to your door).
Here is a link to our Just Giving fundraising page
https://www.justgiving.com/fundraising/mcsummerofhope?utm_source=Sharethis&utm_medium=fundraising&utm_content=mcsummerofhope&utm_campaign=pfp-email&utm_term=26c1287c4261493982d46d4779c70bc4.
To find out more about CAFOD and the Summer of Hope use this link https://cafod.org.uk/Fundraise/School-fundraising/Summer-of-Hope
@CAFOD