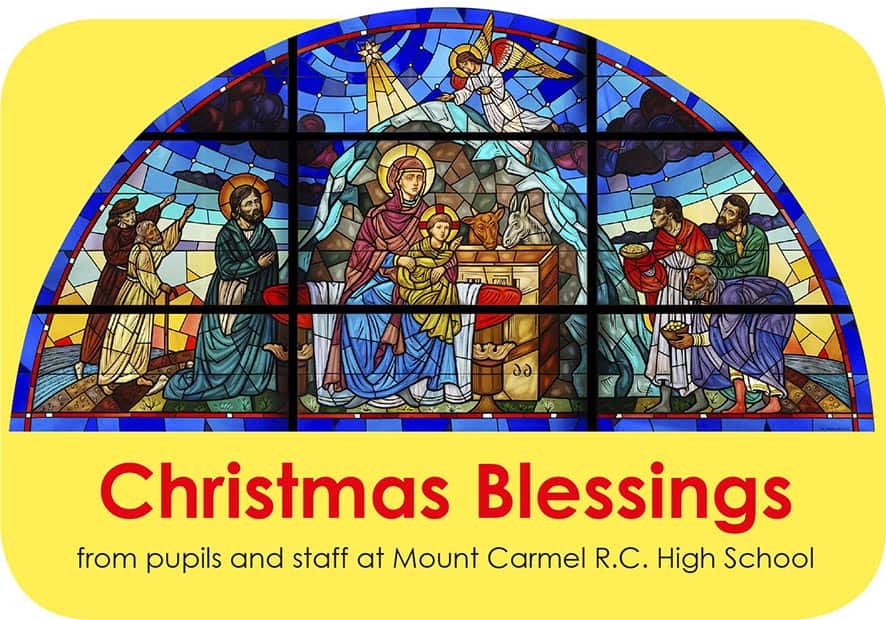 XBS/CME
December 2019
Dear Parent/Carer
Christmas will soon be upon us and it will be the end of another busy term. We hope you and our pupils have enjoyed the various festive activities that are now part of our annual school calendar. Our PTFA Christmas Market took place on Friday 29 November and once again was a fantastic success raising just over £800. We are blessed to have such a supportive and active PTFA and, between supporting other projects in school, they are currently trying to raise money to purchase 2 trampolines for pupils to use in the PE department. I would like to sincerely thank everyone who came to support us.
Our Annual Community Christmas Party for the elderly from the local parishes took place on Monday 9 December. This was our seventh Christmas party and this year we had 80 guests, who were all treated to a 3-course meal and entertainment from our school choir.
Our school choir has had a very busy schedule of Christmas events this year which have included leading the advent and Christmas liturgies in school; performing with our brass band at an Advent Concert at St Mary's Church, Oswaldtwistle; they were chosen to perform at the Accrington Christmas Lights switch-on; and they sang Christmas carols in the Market Hall along with the Hyndburn Catholic primary school choirs. The school choir now has over 60 members and the school brass band is also going from strength to strength!
Our Annual Carol Concert with our Catholic partner primary schools took place on Thursday 12 December. Once again this was an opportunity for everyone to get together as a family of Catholic schools and to remind ourselves about the 'real' Christmas message, putting to one side wrapping presents, shopping, and all the other things that we busy ourselves with over the festive season. Thank you, once again, to everyone who came and we hope you enjoyed the evening.
Retirements: We will be saying farewell to our Chair of Governors, David Rushton, who has resigned from his post as of 31 December 2019, due to personal reasons. We would like to thank David for all his hard work and support during the last 8 years as a governor and 4 years as Chair. We wish him and his wife Monica a long and happy retirement. Andrew Dabrowski our Vice Chair of Governors has been elected unanimously as Chair of Governors for the remainder of this academic year but we are looking for a permanent post holder as of 1 September 2020.
We will also be saying goodbye at the end of this term to Mrs Susan Case who has worked on the school reception for 14 years. We also wish to thank Sue for her service and wish her a long and happy retirement.
Exams: Year 11 have started their preparations towards the GCSE examinations that they will sit in May 2020. This term they took part in PPEs (Pre-Public Examinations) in English, maths, science, RE, history, geography, computer science and iMedia, which concluded with a mock GCSE results day. This process is an important part in replicating the real GCSE process, so that pupils feel comfortable and prepared by May 2020. Year 11 will also take part in PPEs early in the spring term, as we aim to step up the intensity, with examinations in all subjects being scheduled. A number of other initiatives are being driven in school to ensure all pupils are fully engaged in their preparations.
I would like to impress the importance of the following things for the new term in January;
Punctuality: As a school we place great importance on pupils being punctual to school and to lessons. Lack of punctuality affects learning and behaviour not only of the pupil who is late, but it has an impact on all other learners as the teacher is required to recap on missing learning for those who arrive late. This reduces learning time for the rest of the class. Punctuality is also a key workplace skill which must be learnt at school to prepare pupils for adult life. In many cases, pupils who are late to school are the same ones that are late to work and as we all know, employees who are regularly late to work lose their jobs!
Pupils are expected to be in their form rooms on time each day and therefore those pupils who enter our gates after 8.45am are late and, as such, duty staff will take their names and they will be placed in detention. Please support us in ensuring your child arrives on time.
Behaviour: The single most important factor which impacts on pupil performance is behaviour and attitude to learning. We will continue to make good use of rewards such as 'Star of the Half Term', postcards home, and positive phone calls home as well as letters of commendation. As a school, we are very much trying to focus on positive reinforcement at every opportunity. Please support your child by asking to look at their planner each night and discussing with them any additions from that day, both positive and negative comments. It is through daily conversations with pupils that parents and teachers can encourage and inspire pupils to be the best version of themselves that they can be.
Equipment: I am still amazed at how many pupils do not come to school with a suitable bag and equipment. Please put these items on their Christmas list and make sure your child brings a bag into school containing the correct equipment: pens, pencils, ruler, maths equipment, planner, PE kit etc.
Uniform: We are proud of the high standard of uniform across school. Thank you very much for your support and we will continue to accept nothing but the highest of standards in this regard. During the winter months, please can I remind you of the importance for your child to have a warm coat. The only jumper allowed in school is the Trutex black cotton jumper with gold striping. If pupils choose to wear a 'hoody' rather than a coat then we will ask for it to be removed and, if it happens again, it will be confiscated. SHIRTS: Shirts must be tucked inside skirts/trousers and the top button must be fastened; SKIRTS: Skirts must be worn just above or on the knee and not rolled up at the waist; TROUSERS: Trousers must be slate grey conventional tailored trousers – not black and not "skinny fit"; SHOES: Traditional, sensible low-heeled black school shoes – TRAINING SHOES OR BOOTS MUST NOT BE WORN.
Mobile Phones: Please could I remind parents and students that mobile phones should remain in school bags throughout the school day. If the phone is not kept out of sight and a member of staff sees a child using their mobile phone during school hours, it will be confiscated and parents must collect it from the main school office. We make no apologies to having a zero-tolerance approach to these school rules and ask for your full support in these matters.
Homework: There continues to be a big focus on homework as a means of improving attainment and good study habits with pupils. Please ensure that you make good use of 'Show my Homework' to track when homework is set by teachers in school. This has been very successful in assisting pupils with homework tasks. Please do not forget to log in as a parent and see what tasks your son or daughter has been set. If you are having problems with Show my Homework, please contact your child's IT teacher at school. Passwords can be re-issued on request. At KS4 it is expected that pupils do a minimum of two hours per evening of homework tasks and one hour in KS3.
Planning for Bad Weather: It is that time of year again when we start to plan for bad weather. Our view is, whenever possible, school should be open to pupils at all times. We are conscious of our responsibilities to pupils and their families and therefore any decision to close would be in extreme cases, and based on the following:
• If the school site was not safe;
• if staff cannot make the journey into school and / or if it is snowing hard and makes travelling unsafe in our area;
• If the weather was likely to worsen during the day and our pupils may not be able to get home safely.
If this happens, information will be available to tell you of the school closure via:
• School will text parents as soon as possible – which should be before 8.00am.
• School Website: if school is closed there will be a message on the homepage of the school website. If there is no message on the school website then school is open. (www.mountcarmelhigh.co.uk)
• Local media – Radio Lancashire
Please note that there are 2 GCSE exams scheduled to take place on 8 January 2020: at 9.00am the Year 11 pupils taking Sports Studies will sit their exam, and at 1.00pm the pupils in Years 10 and 11 who take iMedia will be sitting their exam. These exams are set externally by the exam boards and cannot be re-arranged. Therefore in the event of school being closed on 8 January due to adverse weather these exams will still take place and pupils involved MUST make their way to school. A reminder text will be sent out to all parents of pupils involved.
Please keep this information in a safe place for future use but be assured that we will always try to open school where safety permits. Please ensure that you notify school of any changes to telephone numbers, addresses or email addresses.
The last day of term is Friday 20 December and the arrangements for the day are as follows:
8.45am to 9.10am – pupils register for first session.
9.10am to 10.10am – Period 1 – Form time (years 7 to 11).
10.10am to 11.00am – Period 2 – Normal lessons for Years 9M, 10 and 11; Christmas Singalong for Years 7, 8 and 9C.
11.00am to 11.30am – Early Lunch.
11.30am to 12.30pm– afternoon session (the second register will be taken at 11.30am); Christmas Singalong for Years 9M, 10 and 11.
School will close at 12.30pm on Friday 20 December and buses have been ordered for this time. It will be a non-uniform day with pupils and staff wearing a Christmas jumper (if they have one) and a donation of £1. School will re-open for the spring term on Monday 6 January 2020. Please continue to look on our website, Facebook and Twitter accounts which are updated regularly with Mount Carmel news.
May I wish you all a happy and holy Christmas and best wishes for the New Year.
Yours sincerely
Xavier Bowers
Headteacher