MAD 4 MATHS INTER-PRIMARY QUIZ 2018
MAD 4 MATHS INTER-PRIMARY QUIZ 2018
23 November 2018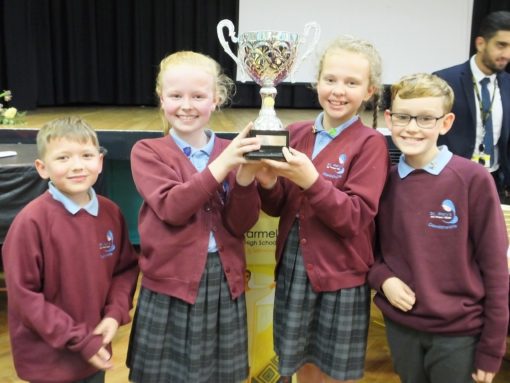 A Mad 4 Maths inter-primary quiz was organised and hosted by Mount Carmel R.C. High School Maths department.
Congratulations to St. Mary's R.C. Primary School in Oswaldtwistle who won the 2018 'Mad 4 Maths' inter-school quiz. The teams undertook three competitive rounds including one using QR codes, another with geometry questions and a treasure hunt problem solving round. The St. Mary's team fought off competition from another 17 teams to win the overall title. In second place came Sacred Heart Primary and in third place was St. Oswald's Primary in Knuzden.
Mount Carmel Year 11 pupils assisted with the scoring along with Year 7 pupils who helped during the evening.
The largest audience to date came along with approximately 120 parents/grandparents/primary school staff supporting the teams and they had the opportunity to enter a parents' prize quiz and raffle.
Refreshments were served during the interval by Mount Carmel Parent Teacher and Friends Association.
Tags: 6-to-7-transition primary transition primarypartnerships