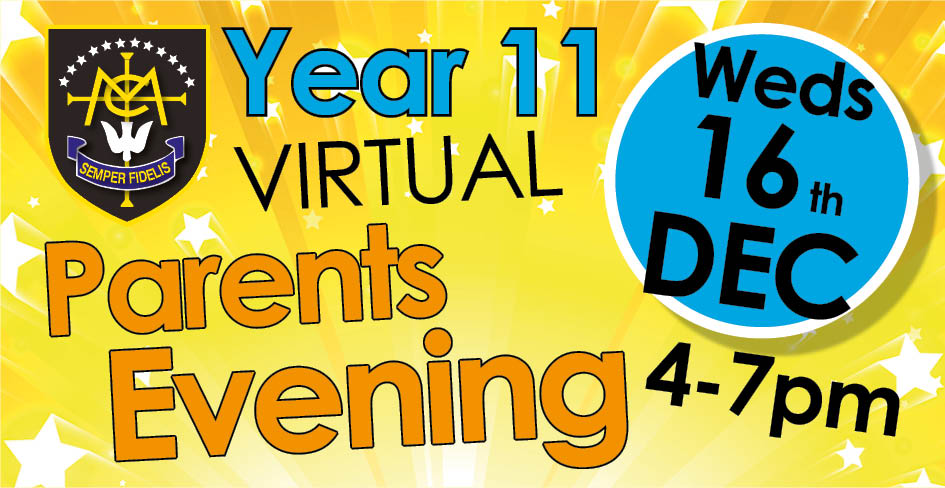 Dear Parent/carer
As your child has now moved into their most important year at Mount Carmel we are hosting two parents' evenings for Year 11 students so that we can work together and communicate effectively to secure the best possible outcomes. Our first Year 11 Parents Evening is on Wednesday 16th December 2020 from 4:00 – 7:00pm and this will be run virtually.
The purpose of this evening is to provide an opportunity to speak with your child's form tutor to discuss their current progress and be offered guidance on how you can support them to work most effectively in school and at home as they prepare for their PPEs in January and then their final GCSE's in the Summer. It is therefore, vitally important that parents attend this meeting.
In light of Covid-19 restrictions we will be hosting the evening remotely. Attached is an information sheet containing the website link through which you can create an account and book an online video appointment slot and additional information can be found on our school website to support with any technical issues you may face. If you are unable to conduct the meeting remotely, please indicate this on the reply slip below and we will ensure we find an alternative method to update you on your child.
To confirm attendance and to help us with organisation, please complete the reply slip that has been sent out with a letter and return this to your child's form tutor.
Once you have scheduled an appointment, you will receive a reminder on the day via the email you register with a link that will take you directly to your appointment. Please ensure you sign in on the evening 5 minutes prior to your appointment slot to ensure that the meeting is fully set up and working.
Should you have any questions regarding this event or if you foresee a problem attending and you think we may be able to help, please contact me directly at school.
Yours sincerely,
Mr D Neil
Pastoral Leader for Year 11
Here is the link to access your appointments on 16 December.
Please watch the video above and look at the help guides below.
Help Guide
How to attend appointments over video call:
https://support.parentseveningsystem.co.uk/article/801-video-parents-how-to-attend-appointments-over-video-call
How to fix camera and microphone issues:
https://support.parentseveningsystem.co.uk/article/807-video-troubleshooting-camera-and-microphone-access