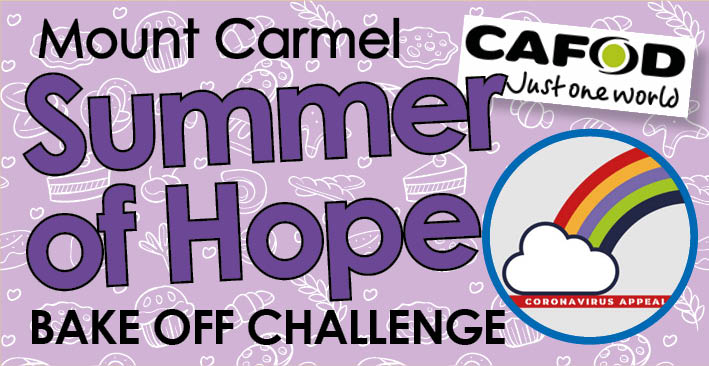 Challenge 1 - Bake Off
Week commencing 22.06.20 will be all about the Bake Off. We would like you to create a masterpiece in the kitchen in the form of a cake. Get a family member or friend to sponsor you.
Create a cake or selection of small cakes, make them look pretty (we won't be able to judge the taste after all), take a picture of your creation and either post it on the school Facebook/ Instagram page, or email it to Miss Rushton.
Just make sure you include the hashtag #mcsummerofhope
Here is Miss Rushton with her delicious looking Bake Off Challenge cake.
The Bake Off challenge winners have now been announced with this comment from Miss Rushton "I am amazed by the outstanding efforts our students have put into this competition! The quality of cakes produced has been phenomenal. This made the competition a really hard task to judge."
"After a great deal of thought, the winner of the competition just pipped others to the post due to including pictures of the creation of his cake along with the recipe and even his own review! It was an excellent effort (I think we have a Great British Bake Off finalist in the making). Well done to Jack L. in 8E! He baked a delicious looking black forest gateau. Your prize and certificate will be delivered by Miss Rushton today.
In 2nd place, producing another excellent looking cake with a Smartie surprise centre was Christina B (Year 10)
Our 3rd place goes to Isaac P who made an elegant looking cake topped with raspberries (8a)
---
Throughout the last few weeks of our summer term, we will be aiming to raise as much money as we can for CAFOD in order to support those far less fortunate than us during this pandemic, those who don't have the amazing NHS and other key workers who have kept our country running during this time.
Each week a new challenge will be uploaded with your weekly reflection.
We would like you to get involved with the challenges, while getting others to sponsor you in the process. We have a special Just Giving Page for this.
There will be a prize for the winner of each challenge and a prize for the person who raises the most money for this cause (delivered to your door).
Here is a link to our Just Giving fundraising page
https://www.justgiving.com/fundraising/mcsummerofhope?utm_source=Sharethis&utm_medium=fundraising&utm_content=mcsummerofhope&utm_campaign=pfp-email&utm_term=26c1287c4261493982d46d4779c70bc4.
To find out more about CAFOD and the Summer of Hope use this link https://cafod.org.uk/Fundraise/School-fundraising/Summer-of-Hope
@CAFOD