Physical Education
"For I can do everything through Christ, who gives me strength." Philippians 4:13
Vision
With Christ at the heart of our teaching, we endeavour to raise standards in PE and sports within our school and through our partnership in the wider; to increase participation rates in order to promote enjoyment and a healthy lifestyle; to provide pathways in PE and sport, from participation to excellence.
At Mount Carmel RC High School, the physical education department have constructed a curriculum that is ambitious and one which promotes all pupils to lead a healthy active lifestyle. Whether they excel in competitive sport or demonstrate a desire for other physical activities, we support learners to enjoy learning, make progress and achieve.
We provide opportunities for all pupils to become physically confident in a way which supports their health and fitness. This is achieved by enabling pupils to take part in a wide variety of sport and other activities, through lessons, extra-curricular activities and educational trips.
PE enables pupils to build character and help embed fundamental values such as fairness, resilience and respect. PE also contributes to pupils' behaviour and welfare; including their physical, mental and personal wellbeing, spiritual, moral, social and cultural development, which helps form responsible citizens who make a positive contribution to society.
Finally, the PE curriculum develops confidence, knowledge and cultural capital they need to succeed in life, which empowers pupils to lead a long and health lifestyle, as well as opening many opportunities for them to continue to stay active and find a career within the sporting industry.
Intent KS3
KS3 curriculum
Pupils should build on and embed the physical development and skills learned in key stages 1 and 2, becoming more competent, confident and expert in their techniques, applying them across different sports and physical activities. Pupils should understand what makes a performance effective and how to apply these principles to their own and others' work. Pupils should develop the confidence and interest to get involved in exercise, sports and activities out of school and in later life, and understand and apply the long-term health benefits of physical activity.
Pupils will study the full curriculum, developing:
a range of tactics and strategies to overcome opponents in direct competition through team and individual games [badminton, basketball, handball, cricket, football, netball, rounders and table tennis]
their technique and improving their performance in other competitive sports [athletics and gymnastics]
dance performances using advanced dance techniques in a range of dance styles and forms
their performance analysis compared to previous ones and demonstrate improvement to achieve their personal best
their participation in competitive sports and activities outside school through community links or sports clubs 
How will the subject be assessed?
At key stage 3, assessment is on-going by the means of continual formative assessment. Teachers present subject matter clearly, promoting appropriate opportunities for discussions about PE. PE staff use assessment well, to help learning embed and use knowledge fluently to check understanding and inform teaching. Summative assessment takes place at the end of each half term in the form of a moderation and then is used formatively. Pupils are then supported/ challenged through detailed planning to support their individual needs. Pupils are encouraged to attend extra-curricular activities to aid development.
Intent KS4
KS4 curriculum
During core PE lessons pupils will continue to develop those skills learnt in key stage 3 and focus more on tactical awareness of the sports/ activities covered. Pupils learn the importance of exercise, which will enable pupils to continue to live a healthy active lifestyle after leaving Mount Carmel.
GCSE PE options:
At GCSE, the pupils follow the OCR specification, which has been selected because it suits the pupils of Mount Carmel. The practical and engaging course has been developed to ensure an inclusive specification that will allow all learners to achieve their potential. The content has been designed to allow learners to study physical education (PE) in an academic setting, allowing them to critically analyse and evaluate physical performance and apply their experience of practical activities in developing their knowledge and understanding of the subject. Over the course of study, teaching is designed to help learners remember in the long term the content they have been taught and to integrate new knowledge to larger concepts.
How will the subject be assessed?
At key stage 4, informal assessment is on-going by the means of continual formative assessment. PE staff continually check pupils understanding systematically, identifying misconceptions accurately and provide clear, direct feedback. In doing so they respond and adapt their teaching as necessary, without unnecessarily elaborate or differentiated approaches. Summative assessment takes the form of end of topic tests which are then used formatively, to ensure that all students are supported and challenged in lessons.
Formal examinations, OCR examination board:
Applied anatomy and physiology; physical training and physical factors affecting performance- 60 marks 1 hour written paper 30% of total GCSE
Socio-cultural influences; sports psychology; health, fitness and, well-being; socio-cultural issues and sports psychology- 60 marks 1 hour written paper 30% of total GCSE
Practical activity assessment and analysing and evaluating performance (AEP) 10% Performance in physical education 30% - 80 marks non-exam assessment (NEA) 40% of total GCSE.
Enrichment and / or extra curricular activities
We provide a wide variety of sports clubs and activities through our extra-curricular programme.
The programme, which is updated each half term, enables all pupils access to sports clubs, before school, at lunch time and after school.
We take part in fixtures against the schools locally in Hyndburn and Ribble Valley, as well as across Lancashire in cup competitions.
The PE department are passionate about providing opportunities for all students to develop and excel in sport. The PE department have also provided a number of opportunities for pupils to take part in sports tours/trips: football tours to Spain/ Greece/ Holland and visits to watch professional teams.
Next steps (College, University, career)
What can the subject prepare me for?
Physical education at Mount Carmel develops fundamental values and key beliefs. PE will give all pupils the knowledge and understanding of how to maintain a healthy active lifestyle and lifetime participation. Learners are ready for the next stage of education, employment or training.
GCSE PE gives the opportunity to study a range of topics such as healthy and active lifestyles, analysis and evaluation of physical activity. This is a basis for continuing studies in sport and physical education, biology at A Levels or continuing to participate in a specific sport dependant on ability.
Pupils can also progress to university to study or choose a career in the sporting industry, including: sports science, sports studies, leisure management, teaching, sports therapy, physiotherapy and many others.
Additional resources:
GCSE PE specification https://www.ocr.org.uk/qualifications/gcse/physical-education-j587-from-2016/
GCSE PE OCR https://www.bbc.co.uk/bitesize/examspecs/ztrcg82
15 July 2022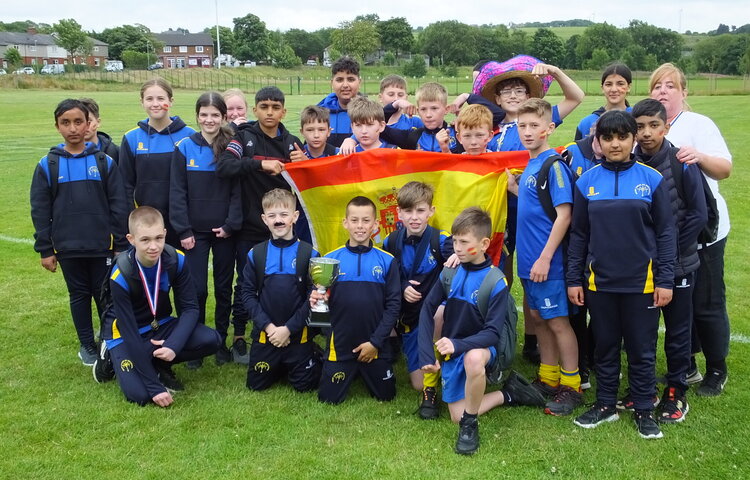 23 June 2022