Design Technology
"For every house is built by someone, but God is the builder of everything." Hebrews 3:4
Vision
The design and technology department at Mount Carmel aims to provide all pupils with a valuable educational experience which broadens their horizons and gives them skills for life beyond school. We aim to be an inspiring, rigorous subject which prepares all young people to live and work in the designed and made world.
The study of design and technology at Mount Carmel provides students of all abilities with the opportunity to develop a practical designing and making ability and to challenge their creativity in solving real and relevant problems. Evaluation of past and present design and technology provides opportunities for students to critically reflect upon and evaluate designs and their impact on daily life and the wider world. We want students to enjoy their learning experiences in lessons and to establish a passion for further study in the subject alongside their explicit acquisition of core transferable skills, such as collaboration, communication and problem solving.
Intent KS3
In key stage 3 at Mount Carmel, students receive two hours of design and technology, art and food technology lessons per week on a carousel. Each rotation is made up of 20 lessons (10 weeks) in M band and 26 lessons (13 weeks) in C band. In addition to lessons, we supplement curriculum time with support, intervention, competitions and university visits, in order to enrich our students' experiences.
KS3 curriculum:
At key stage 3, we cover the national curriculum through a variety of creative, practical and theoretical activities. Our curriculum aims to develop the key knowledge, skills and understanding needed to engage in an interactive process of designing and making whilst preparing them for the demands of GCSE design and technology.
How will the subject be assessed?
Capability is assessed through: knowledge and understanding, designing and making and the development of informed attitudes. The wide-ranging content naturally lends itself to a variety of assessment strategies which can be used to focus teaching and support on student needs and in recognising achievement.
All four skill areas (research, designing, making and evaluation) are tested across each year through a balance of continual formative assessment, which takes place in lessons and through homework activities, and through summative end of project testing. We aim to tackle misconceptions as and when they arise.
Intent KS4
KS4 curriculum:
At key stage 4, pupils work towards the AQA GCSE in design and technology. The scheme of learning ensures that pupils build upon the skills and knowledge gained at KS3 so that they can understand and communicate ideas in greater depth and with increasing complexity in relation to the specification assessment objectives.
In year 10 pupils are challenged through a range of research, design, make and evaluate activities in the acquisition of knowledge, skills and understanding to prepare students fully for their final non-examined assessment which starts toward the end of year 10. Students are provided with the opportunity to learn to solve relevant problems within different contexts whilst considering their own and others' needs, wants and values. Students are encouraged to make, share, justify and discuss value judgements with respect to their own design decisions and those of others.
How will the subject be assessed?
At key stage four, informal assessment is on-going by the means of continual formative assessment which takes place in lessons and homework activities. Pupils sit internal assessments in formal conditions (PPEs) and these are used to inform additional learning support strategies. These assessments allow teachers to identify areas for improvement so that appropriate strategies can be put in place to help pupils to improve further, both in and out of lessons. Formal assessment at the end of the course is through the AQA examination board.
Enrichment and / or extra-curricular activities
The design department offers the following enrichment and extra-curricular activities:
Weekly design support clinic (years 7-10).
Weekly ALS for year 11 students.
Half term Intervention sessions.
Trips to UCLAN/MMU for STEM enrichment events.
Next steps (College, University, career)
What can the subject prepare me for?
Design is everywhere and in everything. Everything around us has been designed, from the latest user interface of our digital app, to the transportation we take, the buildings we visit and the products we buy. It is difficult to imagine what would happen without creative minds developing new products and providing solutions to essential everyday problems. As a result, the opportunities that can arise in the creative and engineering sectors are substantial. College courses are available in the local area for further study, including: fashion design, product design, engineering, graphic design and architecture.
The practical application of the knowledge, skills and attributes developed through the study of design and technology are considered invaluable by many employers. These include complex problem solving, project management skills, analytical thinking and creativity.
Additional resources:
21 October 2021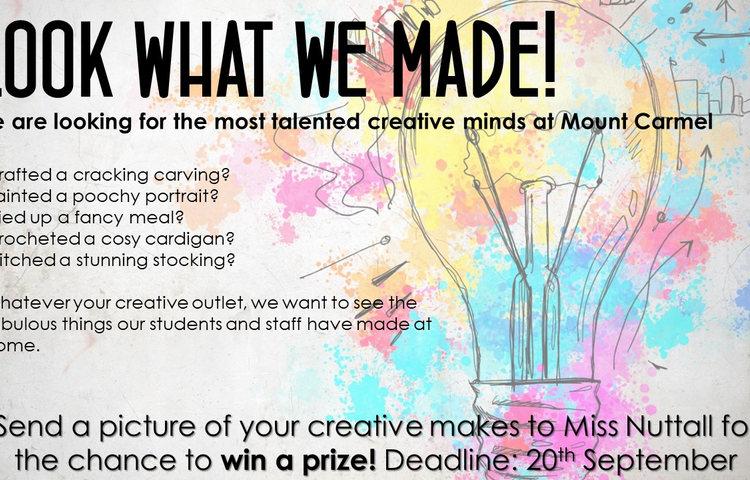 10 February 2021